Welcome to the Charlwood Society
What it stands for
Good planning within the Parish, the preservation of ancient buildings; interest in local history; conservation of our environment; protection of the rural character of our area and the promotion of local cultural interests.
What it does
The Charlwood Society was set up in 1970 under the chairmanship of Lady Farrer. Its aims being to support the above principles, in the interests of residents living within the Parish of Charlwood and Hookwood. These two villages comprise a Norman church and 80 historic houses and the Society works to protect and preserve the continued existence of this unique heritage.

Following its inaugural meeting the executive committee set up an airport group, a countryside group, a group for planning and buildings and a history and information group Despite the intervening years the purpose of the Society today still reflect and remains true to these first initiatives and it is interesting to follow the Society's activities over the years in fulfilling its original aims.
What it has achieved
The Society supported the establishment of the Conservation area in Charlwood and it was the Charlwood Society which furnished Surrey County Council with a comprehensive list of buildings and other features in the Parish when listings were being updated and revised. The Society contacted owners of Grade III properties explaining how under the re-assessment such houses would either be upgraded or eliminated and how the owners could apply for up-grading if they so wished. In view of the Society's help the Department of the Environment sent it a copy of the statutory list, which had included all Lady Farrer's recommendations except The Half Moon, which had been on her 'A' list, Farthings, Butternut and Fulbrook Cottage.
The Society bore some of the costs of the renovation of the Glebe Hovel in 1980 and the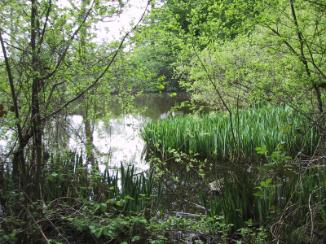 following year, with the agreement of the Charlwood Parish Council (Go to website), set up a museum in the Cage, later discontinued. In memory of Lady Farrer, who died in 1981, the Society gave to the church a weather vane, designed by Pasco Ray and John Clark.
The Society played an important role in the novocentenary celebrations in 1980 to raise money for repairs at St Nicholas, by organising accommodation for the American visitors invited from Houston which was originally to be the focal point of the event. £40,000 was raised from the jousting and medieval fair which took place as part of the celebrations.
In 1984 the Society supported the Woodland Trust purchase of 63 acres of Glovers Wood and also played an active supporting role in the Trust's purchase in 1986 of Edolphs Copse.
In 1986 the Lowfield Heath Windmill Trust was formed and the windmill's re-siting in Charlwood planned. The Society, in conjunction with the Sussex Industrial Archaeology Society, had actively promoted its preservation and made a small grant for this purpose. Go to website
In 2010 it has supported funding applications for the preservation of the Providence Chapel.